People are at the heart of everything we do at Scope. No matter what your hopes, goals and dreams are, our passionate team is here to help turn them into a reality.
Through Scope, you can access a wide range of disability support services — from physical therapy and communication support, to accommodation and group programs. All our services are led by friendly, caring specialists who are dedicated to working in partnership with you.
As well as delivering disability support services, Scope is active in disability research.
For over 30 years, our researchers have worked hard to help improve the lives of people with disabilities.
We have been a registered NDIS provider since 2013.
Our Purpose
We create meaningful opportunities for people with disability to belong and thrive.
Our Vision
Our clients and employees are empowered to live their dreams.
We influence and push boundaries delivering positive change for people with a disability.

Our values

We celebrate people and diversity when we see every person and the contributions they make.
We excel together, in all that matters to our clients and colleagues.
We act bravely and speak up for what is right.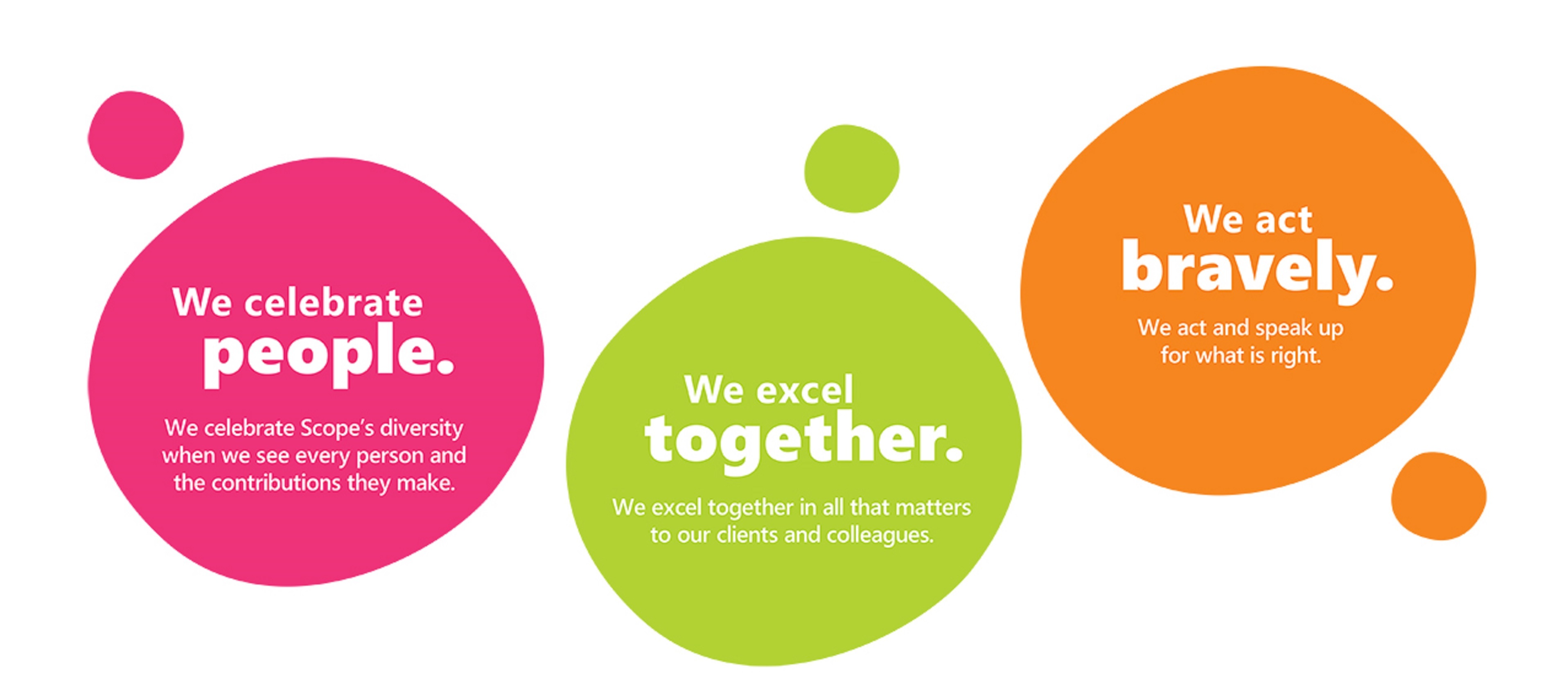 A proud history of disability support

Scope was founded in 1948 by families who wanted better support for their children with cerebral palsy.
Without a service provider who would take their children on, the families banded together to create a not-for-profit organisation that believed in the potential of every individual, regardless of the complexity of their disability.
By 2001, the organisation was officially named Scope. The name reflects the core belief of our founding families — that, with the right support, every person has scope to achieve their goals in life.
As well as being active in research, Scope also leads the way in working with corporate and government organisations to remove barriers to social inclusion through our pioneering work in Communication Access.
We adhere to government standards and have achieved accreditation under the NDIS Quality and Safeguarding Framework. We work within this framework when planning, delivering, and evaluating our services.
In 2018, Scope was selected through a competitive process to deliver Supported Independent Living (SIL) services to residents living in 226 Specialist Disability Accommodation (SDA) houses, as well as those accessing 12 short-term accommodation and assistance services across Victoria.
In 2019, Home@Scope was established as a wholly-owned subsidiary to manage these services and support the transition to the NDIS. Home@Scope remains an integral part of Scope, operating with the same values and approach to high quality services.
In 2021, Scope acquired Disability Services Australia (DSA), a leading NSW disability services provider — helping extend the reach of our services to people with disabilities throughout NSW. All previous services delivered by DSA are now available through Scope.
As we look to the future, the vision and determination of those early families drives us on.


Bringing possibilities to life

Every day, our dedicated teams work with people of all ages and abilities, supporting them to achieve their goals and bring new possibilities to life.